We're very excited about Sintra's debut novel, Jackson's Neighborhood. With a holiday theme, it's also a fun read any time. If you're looking for a book that's lighthearted, heartwarming and loaded with all the mishaps that five kids can produce, then you'll enjoy it!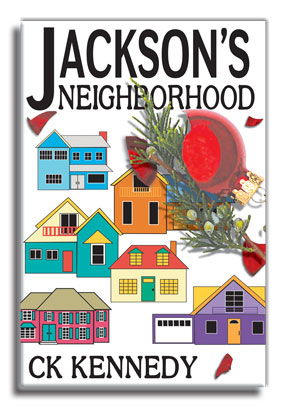 On the jacket: Natalie and Jackson Bennett are delighted with their simple, quiet holiday plans. Their isolated haven amongst a group of eccentric neighbors, however, is about to become a chaotic battleground filled with five disorderly young strangers and one inept offspring.
When daughter Dru announces that a new boyfriend, with whom she now lives, has planned a Christmas hunting trip with his oldest son, the Bennetts welcome her home. Dru unexpectedly acquires his other children, from two ex-wives, for a week. A series of mishaps and crises - including a lost child and an accident in a beloved 1966 Corvette - threatens Jackson's neighborhood, his home, and his sanity. Patience is a painful thing, Jackson decrees, as five wily and precocious kids romp through the Bennetts' lives. Covert tactics-and cash-prevail as each child falls prey to Jackson's off-the-wall sensibilities.
Jackson's Neighborhood is a delightful and wacky holiday tale - filled with the joys of not-so-innocent children, a little romance, and a few tugs of the heartstrings along the way.
You may not want to live in Jackson's Neighborhood, but you'll want to visit again!
Other Favorite Places (with Jackson's Neighborhood listings)

Check out Sweet Tale Books for Holiday-Themed Reads